This will be available for sale until Oct 23rd 2020 , and then will be removed from the shop.
** This is not included in our membership, this is a stand-alone virtual class.
This is the REPLAY to the Virtual Class that took place in August 2020.
Sandie Beltran has developed a unique, systematic way to paint on royal iced cookies like a pro! And best of all? No painting experience needed. Seriously… never laid a paintbrush to royal? Not a worry, we're going to teach you fool-proof techniques that anyone can do!  
In this class, you will use a projector to help guide you on sizing and spacing to sketch your project onto your cookies, while also learning Sandie's signature shading and shadowing techniques to help give your flat cookie a smooth, yet dimensional finish. We've even added some 2D and 3D elements! Sandie will also explain her favorite tools, tips and tricks to achieve the best results when painting on royal icing, especially how to avoid warping and pitting while painting. Painting with water is a much more forgiving medium than typical alcohol. In most situations, you can even ERASE mistakes! This class is for anyone wanting to learn. No experience is necessary. Sandie will break down each step to help facilitate each section of the project.
You'll learn:
Sandie's signature painting techniques that will change how you paint your cookies forever!
How to add 2D and 3D elements to bring a whole new dimension to the cookie.
Fondant flowers (with optional airbrushing!)
Preparing Sandie's coveted royal icing.
Projector setup, tips and tricks.
And so much more!
What's included in this virtual class?
8+ hours of real-time instruction taught in the same fashion as Sandie's in-person painting class (but for a fraction of the price!)
Mini-lessons prior to class to get you fully prepared!
Full supply list and templates posted well in advance.
Access to the replay forever to reference and re-watch however often and frequent as you need!


Requirements for Class

You must have a facebook profile (even if you create one just for this class!)
You must have your own projector, stand and USB flash drive. Here are the products we suggest: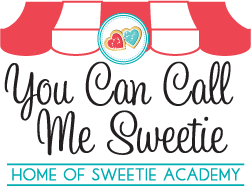 When you purchase, you agree to the following terms:
Understand that you will need the required items listed above along with the supply list to fully participate in the class.
Refund Policy: Please be fully aware that no refunds will be issued under any circumstances in the event that you are unable to attend the class due to the digital nature of this class.
This class is for you to improve your skills in cookie decorating or just have cookie FUN!  If you are a teacher, these techniques, instructed by Sandie Beltran to you in class, are not to be added to your curriculum. By taking the class you acknowledge this and agree not to infringe on You Can Call Me Sweetie/Sweetie Academy's intellectual property rights. To those who do not teach and are cookiers and/or hobbyist only, you may recreate the designs and techniques on orders for your family, friends, and clients. Yes... it's OK to replicate or be "inspired" by these designs when creating a set for an order.