Sandie from You Can Call Me Sweetie
The Art of Edible Painting Advanced takes the original class to a whole new and exciting level! The advanced course uses Sandie's unique technique with more in-depth shading and shadowing which will broaden your capabilities to master realistic-looking paintings.  Learn in this class how to efficiently mix edible colors to bring your edible artwork to LIFE! In The Butterfly Girl Project, we have added a few extra bonus classes where we will be working with edible lace and royal icing transfers.
What's included in this virtual class?
10+ hours of real-time instruction taught in the same fashion as Sandie's in-person painting class (but for a fraction of the price!)

Advanced Painting Skills
BONUS: Edible Lace
BONUS: Butterfly Royal Icing Transfer

Mini-lessons prior to class to get you fully prepared!
Full supply list and templates.
Access to the replay forever to reference and re-watch however often and frequently as you need!


Requirements for Class

You must have your own projector, stand and USB flash drive. Here are the products we suggest: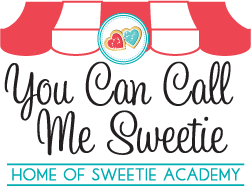 When you purchase, you agree to the following terms:
Understand that you will need the required items listed above along with the supply list to fully participate in the class.
Refund Policy: Please be fully aware that no refunds will be issued under any circumstances in the event that you are unable to attend the class due to the digital nature of this class.
This class is for you to improve your skills in cookie decorating or just have cookie FUN!  If you are a teacher, these techniques, instructed by Sandie Beltran to you in class, are not to be added to your curriculum. By taking the class you acknowledge this and agree not to infringe on You Can Call Me Sweetie/Sweetie Academy's intellectual property rights. To those who do not teach and are cookiers and/or hobbyist only, you may recreate the designs and techniques on orders for your family, friends, and clients. Yes... it's OK to replicate or be "inspired" by these designs when creating a set for an order.