Oh sweet succulent babies! Who doesn't love these cute little plants that are poppin' up everywhere? Nothing like taking the beauty natural has to offer and recreating it in sugar. And really, who doesn't want to cover their house with baby cacti and plants -- so let's cover our desserts with them too, eh?
You can create succulents in buttercream, fondant or gumpaste... in bright or muted colors, really the possibilities are endless. It's a true treat for the eyes and mouth.
And if you're trying to make succulents for your cakes and you want to go the fondant or gumpaste route, check out the video at the bottom for my no-cutters super quick succulents hack!
Let's get started by looking at these ah-freakin-mazing succulent BUTTERCREAM cakes from Ivenoven! Homegirl is a serious genius with her cake skills. Also, major winning point: because these beautiful succulents are on a cake, I can just eat them without having to remember to water them 😉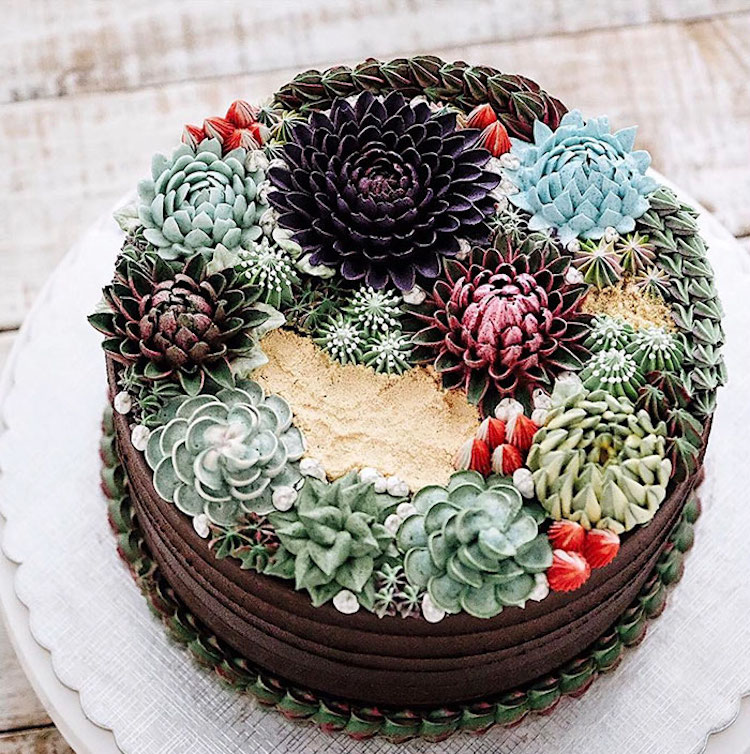 And then there are fondant or gumpaste ones, like these:
(left) Cake by Z. Adenova of More_Sugar
(right) Gorgeous gumpaste succulents by Golumbevskaya Olesya
And last, but certainly not least, buttercream succulent cakes and cupcakes by Leslie Vigil
And, as promised, a Tutorial...
Want to see my unique approach to making really quick and easy succulents without needing to use cutters? Check it out...
A free Facebook live tutorial to help you make quick succulents for fillers or cupcakes!
Just press play!

I follow with a little bit of color and BOOM.. quick. Easy. Awww yeah.
🙂